Registration for 2019-2020 leagues is now open! Join us for another season of competition, fun, and camaraderie on the ice!
To register:
Or join us at one of our pre-season open houses for more information and to register in-person.
The Priority Registration Deadline is 11:59pm on Tuesday, September 10, 2019. You must register and pay by the Priority Registration Deadline to ensure best access to your desired leagues. Details on our league registration priority can be found in our League Over-Subscription Policy. Leagues begin this season on Thursday, September 27th!
League changes for this season
Sunday Mixed Doubles is a now a 2-draw league on Sundays at 6:00pm and 7:45pm. Come play the newest Olympic curling discipline! This league is two separate half-season leagues, Fall Sunday Mixed Doubles and Winter Sunday Mixed Doubles. This league is in addition to the Thursday Mixed Doubles league, which is available again this season on Thursdays at 5:30pm.
Sunday Mixed (4-person) will not be offered this season. If you are interested in playing on Sundays, we encourage you to consider the Sunday Afternoon league. Sunday Afternoon is an open social league with 2 draws at 2:00pm and 4:00pm.
The Sunday Novice League is still a free add-on for any member. This league focuses on instruction, drills, and short games to hone the curling fundamentals of our newer or less-experienced members. It occurs on most Sundays at noon.
For any questions about leagues, please contact Aaron Thompson at leaguesmgr@curlingseattle.org.
Give the Juniors Your Money! (They are going to earn it). We are hosting a fundraiser event to help junior curling development, and we want your help!
Let's kick off the curling season with a fundraising event for the competitive curlers at GCC next Saturday night (9/21) from 7pm - 9pm. Come test your skills against the Juniors.
We will be holding a skills competitive with a blind Calcutta, plus options to buy additional Calcutta entries. We will also have a buy-in for Win/Place/Show on the skill challenges.
There will be warm room activities for those of you that don't want to compete -- Horse Racing, 50/50 Raffle, and special drinks in the bar!
Sign up online
USA Curling has announced that CEO Rick Patzke is leaving. The board has appointed Rich Lepping, immediate past board chair, as interim CEO. Lepping has served as president of the Wisconsin State Curling Association and the Madison Curling Club, and is a USCA representative for the World Curling Federation. He has more than 30 years of corporate franchise restaurant experience and earned a bachelor's of business education from Eastern Michigan University.
The board sincerely thanks Rick Patzke for his two decades of service to USA Curling. His dedication to the growth of our sport nationally can be attributed to the success of curling clubs throughout the country.
As your representative on the board of directors, I assure you that we made this change with due deliberation and awareness of the consequences. We are dedicated to:
• ensuring USCA is fully promoting membership growth and development
• operating with honesty, transparency and integrity
• athlete welfare by providing the best training environment possible
• competitive excellence
As members of Granite CC, you are also members of USA Curling and have a stake in its success. Your representation to USA Curling is through the Washington State Curling Association (WSCA) and the director from the WSCA on the USA Curling board (that would be me). Please feel free to let me know your thoughts and suggestions for the future of USA Curling and for what characteristics we should be looking for in a permanent CEO.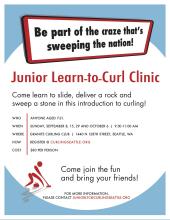 Do you have kids or know kids that want to try curling? Registration for the fall session of Junior Learn-to-Curl is now open: https://curlingseattle.org/juniors
The Knock the Dust Off spiel was designed as a direct result of our 2019 curling research project. Here is what we heard:
• Finding bonspiel team members is challenging for new and experienced curlers, so we're doing individual sign-up.
• You'd like to know when you'll curl, so most of the weekend will be pool play, i.e. you'll know ahead of time the time of all your Friday and Saturday games.
• Bonspiels are expensive, so we're offering this spiel for only $50 a person (with advance payment) which is $20 less than traditional 3-day spiels.
• People want to play with their friends, so you can request a friend or two to play with.
• Everybody should have a chance in fun spiels, so the spiel coordinators will do our best to create balanced teams.
• You want to meet lots of people, so you'll be playing at least six opponents (instead of the usual three).
Here are some details:
• Individual sign ups. Bonspiel coordinators will form balanced teams from the participant pool. You will receive a participant information survey to give us the information we need to form up teams
• Spiel Cost: $50 a person if payed before October 19th. After October 19th, the price increases to $70 a person
• Games: 4 end games with 6 games guaranteed
• Competition format: Pool play for 5 games, then 4-team brackets in 8 divisions
• Food: Lunch, dinner and snacks provided. To keep costs down it won't be Sous Vide Prime Rib like the Holiday spiel, but it will be tasty; wear your stretchy pants.
• Bar: Cash bar staffed by club volunteers
Sign-ups are available now. GO DO IT! We only have room for 128 of ya'll. https://curlingseattle.org/bonspiels?event=201925Under&disp=teams
-=Knock the Dust Off Committee=-
Ethan Bradford
Jessica Schultz
Todd Schultz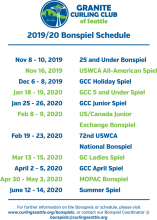 We are pleased to announce the 2019-2020 Bonspiel Schedule.