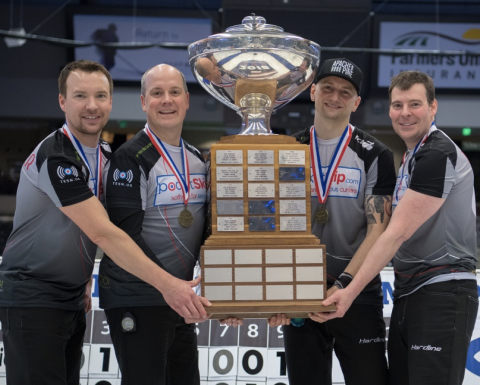 Persinger rink wins 2018 Men's National Championship title and will represent US at World Curling Championships in Las Vegas at end of this month
(STEVENS POINT, Wis.) – Greg Persinger's team completed a successful week at Scheels Arena in Fargo, ND, and now will get to live out a dream representing the U.S. at the upcoming World Men's Championship after defeating Heath McCormick tonight in the men's gold-medal game of the 2018 USA Curling National Championships in Fargo, N.D.
"I don't have any words to describe it," said Persinger, 40, a father of three who owns a Cold Stone Creamery franchise with his wife. "I never thought the way this season started that I'd be sitting here. We picked up this guy (Richie) and here we are."
With the 7-5 victory over McCormick's team, Persinger (Fairbanks, Alaska) and teammates Rich Ruohonen (Brooklyn Park, Minn.), Colin Hufman (St. Paul, Minn.), and Phil Tilker (Seattle) will compete in the 2018 World Men's Championship March 31-April 8 at Orleans Arena in Las Vegas.
"It was 10 years ago that I made the Worlds with Craig Brown in Grand Forks and it was incredible there. I can only imagine it's gonna be bigger and better in Vegas because I know a ton of people who are going," said Ruohonen, who won the men's title in 2008 and joined Team Persinger after last fall's Olympic Team Trials where he was the alternate for Team McCormick.
Persinger, Huffman and Tilker played for Brady Clark's ( Lynnwood, WA) team which won the US National Championship in 2016. This is the second title for Persinger (2018, 2016), Ruohonen (2018, 2008) and Hufman (2018, 2016), and third for Tilker (2018, 2016, 2013) Huffman is a former Seattle resident and member of Seattle's Granite Club (www.curlingseattle.org ) before recently moving to Minnesota. Tilker currently lives in Seattle and is a member of the Granite Curling Club.
For McCormick (Sarnia, Ontario) and teammates Chris Plys (Duluth, Minn.), Korey Dropkin (Duluth, Minn.), and Tom Howell (Milwaukee, Wis.) it is a second tough championship final finish after losing the Olympic Trials final to John Shuster in November.
"It happens. We fought to the end and unfortunately it didn't come out our way. It's something to me and all of us will work a little bit harder next year and in the future," said Dropkin, 22, who will represent the U.S. at the upcoming World Mixed Doubles Championship in Sweden.
The championship final was a game of momentum swings, patience and a few unfortunate picked stones.
"We did give up that steal, but I told the guys we had been playing well and getting deuces regularly with the hammer," said Ruohonen, who will turn 47 on the opening day of the World Championship in Las Vegas. "We felt if we could get a deuce back that we'd be fine. We made some big shots. We had a couple of picks, which is how they got the deuce (in the fifth end). We felt like we were in control of the game and we played like we wanted to play all week. We played aggressive and made shots."
Team Persinger capitalized on a missed runback in the second end with an open draw to score two points. The teams exchanged singles over the next two ends with Team McCormick taking advantage of a picked stone and a missed double takeout to draw into the rings for two points to tie the game at the halfway mark. McCormick's team would continue with the game's momentum in hand with a single steal in the sixth end when Persinger's tap attempt with the final stone was not successful enough to score.
A great hit and roll from Ruohonen in the seventh end, however, set Team Persinger up for a critical deuce to take back the lead and, more importantly, the game's momentum. Team Persinger extended its lead to two when a great freeze from Persinger forced McCormick to draw the four-foot. The final stone was heavy as Persinger took a 6-4 lead. Another great freeze with Persinger's skip stone of the ninth end forced McCormick to draw the four-foot for a single point. Up one with the hammer, Team Persinger kept the house as uncluttered as possible and won the national title when McCormick's final takeout attempt made contact with a corner guard – meaning Team Persinger did not have to throw the last rock with the winning point already in place.
"We were able to capitalize on a couple of different opportunities in the middle of the game. Between the deuce in five and the steal in six, we were feeling pretty good," Dropkin said. "We had a few unfortunate misses or half shots in the seventh end. Heater saved us a little bit and were able to force the deuce. But the game just started to get a little bit away from us there."
The World Women's and World Men's Championship will feature 13 competing teams for the first time and a new six-team playoff system. NBC Sports will provide coverage from both world championships. The 2019 National Championships will take place Feb. 9-16 in Kalamazoo, Mich.
Line score, men's final:
Heath McCormick 001 021 001 0 – 5
*Greg Persinger 020 100 210 1 - 7
*last rock in first end
Gold:
Team Persinger: Greg Persinger (Fairbanks, Alaska), Rich Ruohonen (Brooklyn Park, Minn.), Colin Hufman (St. Paul, Minn. formerly from Seattle), Phil Tilker (Seattle)
Team Sinclair: Jamie Sinclair (St. Paul, Minn.), Alex Carlson (St. Paul, Minn.), Vicky Persinger (Fairbanks, Alaska), Monica Walker (St. Paul, Minn.)
Silver:
Team McCormick: Heath McCormick (Sarnia, Ontario), Chris Plys (Duluth, Minn.), Korey Dropkin (Duluth, Minn.), Tom Howell (Milwaukee, Wis.)
Team Christensen: Cory Christensen (Duluth, Minn.), Sarah Anderson (Minneapolis, Minn.), Jenna Martin (Wauwatosa, Wis.), Taylor Anderson (Minneapolis, Minn.), Natalie Nicholson (Bemidji, Minn.)
Bronze:
Team Birr: Todd Birr (Ham Lake, Minn.), John Benton (Blaine, Minn.), Hunter Clawson (Clarksville, Md.), Tom O'Connor (Brooklyn Center, Minn.)
Team Farrell: Cora Farrell (Fairbanks, Alaska), Lexi Lanigan (Duluth, Minn.), Cait Flannery (Mankato, Minn.), Rebecca Miles (Duluth, Minn.)
USA Curling is sponsored by AtomOS, Nike, Brooms Up Curling Supplies, Cheetos, CryoMAX 8-Hour Cold Pack, Sitrin, The RAM Restaurant & Brewery, Thorne, BalancePlus, ISS Ice, Sports & Solar, and Brakebush, and is partnered with Laurie Artiss Ltd. – The Pin People, United Airlines, 12th End Sports Network, and CurlingZone.