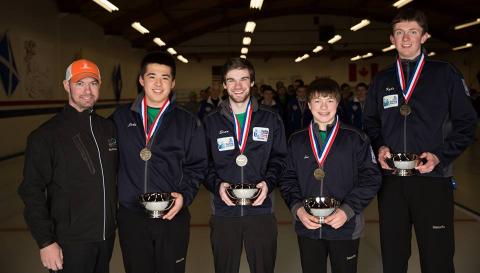 While most of the Northwest region focused their attention on a certain football team playing in a game this weekend 3,000 miles from Seattle, a local curling team won a National Championship on their home ice in North Seattle. Jake Vukich (Seattle), Evan McAuley (Sammamish, Wash.), Luc Violette (Granite Falls, Wash.), and Kyle Lorvick (Seattle) won the 2014 US Curling Junior Men's National Championship on Saturday morning at the Granite Curling Club, earning a spot to represent the United States at the World Junior Curling Championship, February 26-March 5 in Flims, Switzerland.
Photo by Neil Enns/Dane Creek Photography, from left, coach Travis Way, Jake, Even, Luc, Kyle
In the men's gold medal match, which began at 10 am, Vukich broke open a close game midway through the match to pull away for a 7-5 victory over Scott Dunnam's Team Pennsylvania. Dunnam stayed in the game by scoring a big 3 points in the 9th end to pull within 7-5, but in the tenth, Luc Violette's triple-takeout removed all of the rocks in play, two Team Dunnam's rocks and one of their own and Vukich was able to keep the house clean the rest of the way before finishing it off with a takeout of his own to win the championship. With the hometown team in the finals, the curling club was standing room only, with a number fans wearing Russell Wilson or Marshawn Lynch jerseys. They cheered wildly when Vukich made his last shot, and the roar could be heard by all the teams out on the ice.
In the US Women's Junior National Championship, also played at the Granite Curling Club, Cory Christensen's Team Minnesota won a nail-biter over Sarah Anderson's team, 8-7. The women's gold medal game was tied at 7 after 9 ends, and after Anderson''s final shot in the 10th end was just a little heavy, Christensen drew her last rock to the 4-foot circle to secure the 1-point victory and a spot in the Women's World Junior Championships in Switzerland later this month.
This is the first Junior National Championship for Team Vukich, which won the silver medal at Junior Nationals last year. It also marks the 47th National Championship for a team representing the Granite Curling Club, which was founded in 1961. It is the club's first Junior National Championship since Sean Beighton's team won the title in 2010. A full list of Seattle's national curling championship teams can be found at http://curlingseattle.org/national-champions.
For complete team rosters, photos and linescores from the 2014 Junior National Championships, please visit the Granite Curling Club's website at http://www.curlingseattle.org and the Junior Nationals website at http://www.juniornationals.us.