News
I hope you have had a fantastic summer so far. While it's not over yet we at the Granite Curling Club are already busily planning upcoming bonspiels. If you have already checked out the web site you might have noticed that the 25 and Under Spiel is the first spiel of the year. Well, that is no longer the case. We are going to do something a little …. different. I'd like to introduce you to the Knock the Dust off Spiel.
We are pleased to announce the 2019-2020 Bonspiel Schedule.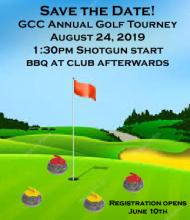 2019 GCC Golf Tournament registration Now Open!!
Join us on August 24, 2019 for a 1:30pm shotgun start at Jackson Park Golf Course followed by a BBQ at the club immediately following. The format will be a 4-person scramble with fun games and prizes.
In order for this to be a success we need headcounts so early bird pricing is in effect, register now to golf at: http://www.curlingseattle.org/bonspiels?event=2019Golf