News
We are pleased to announce the 2019-2020 Bonspiel Schedule.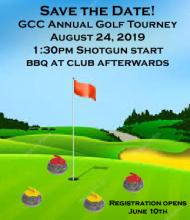 2019 GCC Golf Tournament registration Now Open!!
Join us on August 24, 2019 for a 1:30pm shotgun start at Jackson Park Golf Course followed by a BBQ at the club immediately following. The format will be a 4-person scramble with fun games and prizes.
In order for this to be a success we need headcounts so early bird pricing is in effect, register now to golf at: http://www.curlingseattle.org/bonspiels?event=2019Golf