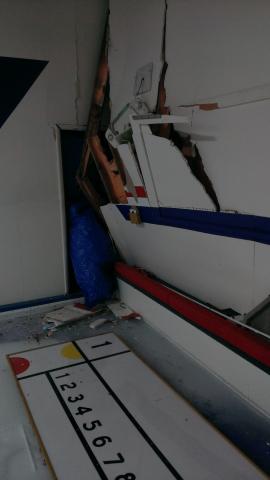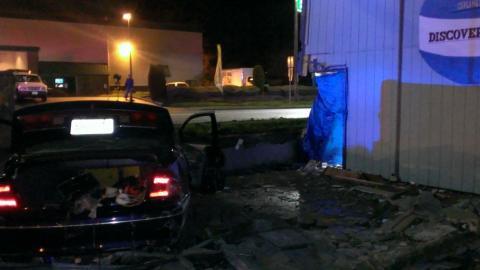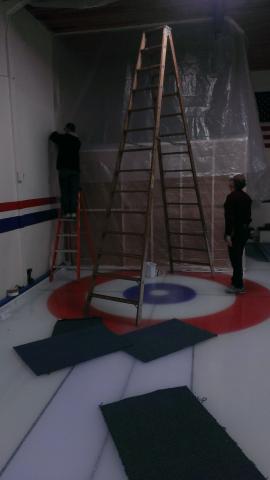 Update: Repairs to the interior of the building are very nearly complete. The box on sheet 1 will come down on Tuesday! However, sheet 1 will remain unusable for the remainder of the regular season. Our ice crew has scheduled a flood on April 3. Sheet 1 will only be usable after a lot of work, including the flood. We have chosen not to bring the date of the flood forward because it would cause more interruption to leagues - and our league managers have already done a ton of work to rearrange league schedules. Therefore, sheet 1 will not be usable until April 4 at the earliest.
___________
Sheet one is out of service while we make repairs on the NW corner of the building where a car hit it. We estimate the repairs will be complete in time for the April spiel.
At about 2:30 President's day morning, a car apparently going westbound on N 130th careened out of control into the NW corner of the Granite Curling Club. The impact on the passenger side of the car broke the corner column, removed the door in that corner and about 15 feet of fence between the parking lot and the sidewalk. The car ended up in the parking lot facing north towards where the fence used to be. The driver took off leaving an injured person in the passenger seat.
The impact also knocked a fire pull box off the wall, thus triggering the fire alarm. This brought the fire and police departments, some television news crews, and me. The fire crew removed the injured person and sent him to Harborview. Reports are that injuries are minor.
Karen came down to join me where we spent the rest of the night looking after the now open to the outside and unalarmed club. Volunteer work crews arrived later in the day to clean the site of debris, and construct a temporary wall on the inside of the building to isolate the repair site. In the evening, a contractor put temporary plywood and tarping over the outside.
The club was closed to curling for the day. The ice crew spent the day cleaning the ice and further conditioning it for play. League play resumed with reduced capacity on Tuesday. Repairs are expected to take about a month to complete. There is talk of mounting the front license plate and grill, found in the debris, on the wall near the crash site.
It later turned out that not only was the car not insured, it also wasn't registered – and the owner, the passenger, was not licensed. The owner claims to not know who the driver was.