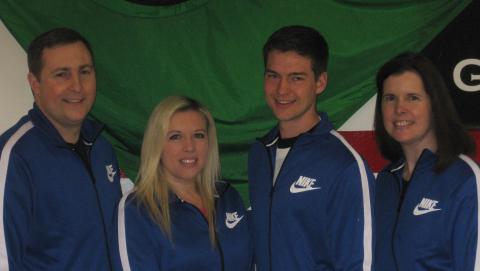 Brady Clark, Cristin Clark, Derrick McLean, and Bev Hale made it tough on themselves and needed some help from other teams, but the Clark/Clark/Hale dynasty rolls on as they took yet another state mixed championship. Clark et al. dropped both their games on Saturday, then won both their games on Sunday to force a sudden death tie-breaker on Monday. The other two teams Michael Calcagno, Marissa Wright, Andrea Callegari, Laura Yee, Sharon Vukich and Lyle Sieg, Miyo Konno, Peter Sommer, Jennifer Westhagen, Travis Way also had 2-2 records in the double round-robin.
By virtue of winning the Draw Score Challenge - which Brady did by making three draws to the button and one off by 3 inches, his team received the bye to the final game. On Monday morning, Team Calcagno beat Team Seig, but could not beat Clark in the final. For full details see Washington Mixed Championship.
Team Clark moves on to the National Championship in Wisconsin Rapids, Wisconsin next month - where Brady and Cristin will be looking for their tenth national mixed title and Bev her ninth.