News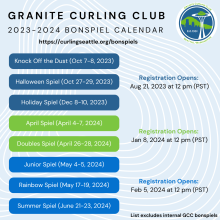 We have an exciting bonspiel season ahead at Granite Curling Club! In total, we are hosting 10 GCC events between September 2023 and June 2024 (2 of these events are internal - GCC members only). Registration for our first three events opens on August 21st at 12 pm (PST); visit https://curlingseattle.org/bonspiels to learn more and register.
Don't miss your opportunity to curl at our club!
The 2022-23 curling season is officially a wrap!
Pages
Want More Curling In Your Life?