News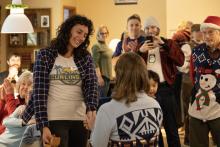 We were delighted to have a surprise wedding proposal on the first night of our Holiday Spiel. Matt Wait popped the question to Veronica Huerta after finishing their first match. Matt and Veronica curl at the Hollywood curling club in California. Together with Will Chen and Zach Altman, they entered the bonspiel as team Die HAAAAARD.
Congratulations Veronica and Matt! Best wishes for a happy marriage and good curling!
Pages
Want More Curling In Your Life?