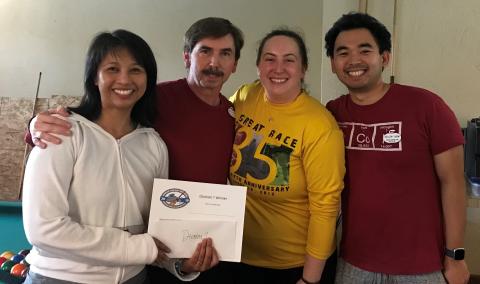 The first ever Knock the Dust Off Spiel is in the books and it was a rousing success on all accounts. This spiel was designed as a direct response to the findings from the bonspiel participation and team formation research study last year. With 80 participants curling 80 games in 16 draws there was plenty of curling for all.
A big thank you goes out to the organizing committee: Jessica Schultz, Todd Schultz, Ethan Bradford and Karien Balliuf. We are also grateful for all of the volunteers who came out to serve in the kitchen, bar and on the ice crew. A special thank you goes out to Monique Heileson for designing the event logo.
The overall winners are Sheila Mariano, John Canning, Alex Chow and Kellen Chow.